Even if you can't visit New Orleans during Mardi Gras, you can still learn all about the famous New Orleans tradition at the Presbytere. Part of the Louisiana State Museum, the Presbytere boasts an interactive exhibition that includes an impressive collection of Mardi Gras artifacts and memorabilia.
"Mardi Gras: It's Carnival Time in Louisiana," documents the celebration's extensive history, from its origins to present day traditions. Visitors also learn about Mardi Gras events in Louisiana's rural areas.
The Presbytere building has a unique history of its own. It gets its name from its location. It is built on the site of the residence, or presbytere, of the Capuchin monks. It was designed in 1791 to match the Cabildo on the other side of St. Louis Cathedral. The Presbytere was used as commercial space and even served as a courthouse from 1834 to 1911 before becoming part of the Louisiana State Museum.
Tour e biglietti
Visualizza tutto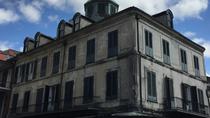 Scopri la storia di New Orleans attraverso la sua architettura in una passeggiata di 2 ore intorno al quartiere francese. Goditi una piacevole passeggiata con ... Ulteriori informazioni
Luogo: New Orleans, Louisiana
Durata: 2 ore
Lingua:

Inglese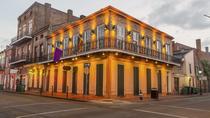 Esplora la storia del quartiere francese con un tour a piedi di 2 ore con una guida esperta che condivide leggende e punti di riferimento di questa ... Ulteriori informazioni
Luogo: New Orleans, Louisiana
Durata: 2 ore 30 minuti